Building Community
The Asheville Gay Men's Chorus has served the local Asheville community throughout our long history. Each year the Chorus partners with a variety of other organizations to promote fellowship, support missions and build community. As ambassadors of music we know the effect song can have and its universal understanding. Known for its music, Asheville is a thriving scene for artists. We are happy to have included some of our local musicians in our performances including our work with NC Stage, a local theatre company.
See below for a sample of events in which the Chorus has had the privilege to participate.
Food Drive for Loving Food Resources & Council on Aging
June 22nd & June 23rd, 2020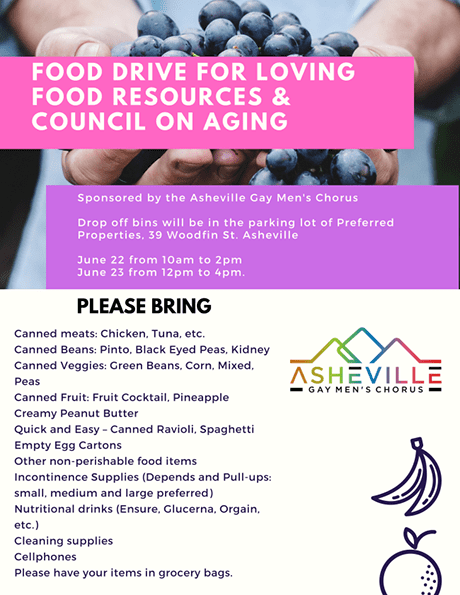 Sing OUT, LOUD and PROUD!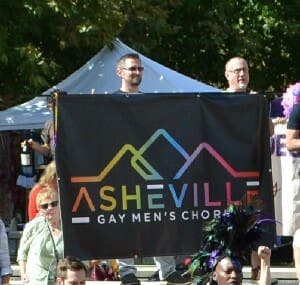 Over many years, the Chorus has added our voices for annual Pride celebrations. In the early years there was not a local festival, so we traveled to the North Carolina Pride celebrations.
Now in its twelfth year, our region has Blue Ridge Pride, a celebration of diversity, acceptance and education. The Chorus is proud to be part of this event, showcasing our talents and promoting education and diversity.
One of the earliest performances for the Chorus was for World AIDS Day. Recognizing the importance of this memorial we sing of reflection, hope, fear.
While always an emotional experience, our work with the Western North Carolina AIDS Project remains steadfast. This past year the Chorus provided toys for their Christmas Toy Drive. We understand and support the mission of WNCAP and its service to our broadening community.
Understanding the needs of a community is one thing. Being involved in the community is what the Chorus strives for. Our continued work with Loving Food Resources and BeLoved is evolving.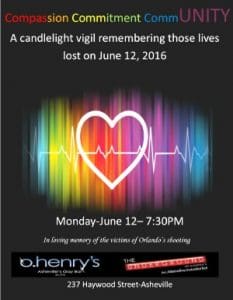 Our appearance at the PULSE Memorial was a moving experience with the realization that sometimes music will bring the community together.
Our work with Western Carolina University has opened up new channels for partnerships, and our involvement in the Asheville Holiday Parade offers us an opportunity to reach a broader and more diverse community.
In the early years the Chorus worked with the University of North Carolina, Asheville. We performed for the Gay Studies Conference helping to promote diversity and understanding.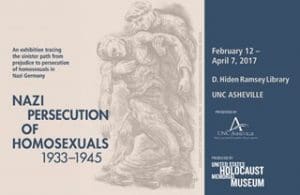 Our relationship with the University continues to-date with a performance for the opening of a traveling exhibition produced by the United States Holocaust Memorial Museum titled 'Nazi Persecution of Homosexuals 1933-1945'.
---
A healthy social life is found only, when in the mirror of each soul the whole community finds its reflection, and when in the whole community the virtue of each one is living.
~ Rudolf Steiner