Upcoming Events – Stay Tuned for More Information!
Valentine's Cabaret Happy Hour
Mardi Gras Parade
Cathedral of All Souls Lenten Series Concert
Deerfield Episcopal Retirement Community Concert
HOLIDAY CONCERTS – Tickets on Sale Now!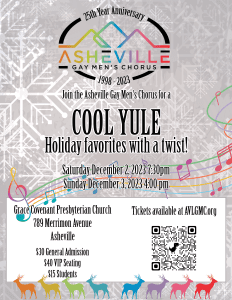 **Saturday December 2, 7:30 pm –
Sign Language Interpretation

this date only!
**Sunday December 3 at 4:00 pm
Location for both dates: Grace Covenant Presbyterian Church
789 Merrimon Avenue
Tickets for "A COOL YULE with the AVLGMC":
*VIP (first few rows): $40 per ticket
*General Admission: $30 per ticket
*Student (Student ID to be presented at the door): $15 per ticket.
Please note that PayPal no longer allows quantities to be adjusted at check-out. Therefore, we have provided various ticket quantities in the drop-downs below.
If you want to purchase different types of tickets (e.g. 3 VIP and 2 Student), you will need to perform multiple check-outs.
The BUY Now Button is "below" your selected type of ticket!
Your PayPal Confirmation is your receipt. However, we are notified upon each purchase, so you do not need to bring your receipt to the door. (NOTE: If purchasing student ticket(s), student ID MUST be presented at the door.)
Tickets for Saturday December 2 at 7:30 pm:
VIP
General Admission
Student
Tickets for Sunday December 3 at 4:00 pm:
VIP
General Admission
Student